Legal Aid for Survivors of Sexual Assault (LASSA)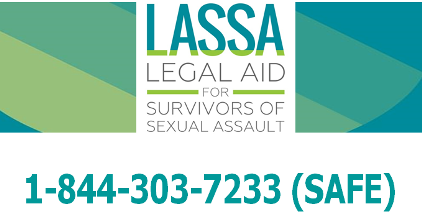 The Legal Aid for Survivors of Sexual Assault (LASSA) network serves every Texas county, providing survivors of sexual assault with a wide range of free legal services from general advice to holistic, direct representation in civil legal matters stemming from the sexual assault.
Survivors' legal problems can include: privacy violations, physical safety threats, school accommodations, employment sanctions, financial problems, housing problems, and immigration consequences.
The initiative was made possible through $10 million in funding from the 84th Session of the Texas Legislature for the 2015-2017 biennium. These funds come from a tax on sexually oriented businesses intended to generate revenue that will, in part, underwrite programs to aid victims of sexual assault. The funds are distributed by the Texas Access to Justice Foundation to grantees across the state.
News release: Texas Legal Hotline Now Available for Sexual Assault Survivors
Recent News

Nov. 7, 2018
Texas Veterans Legal Aid Week is Nov. 11-17
Oct. 18, 2018
Texas Rep. Oscar Longoria Honored with Legislative Hero Award
Sept. 10, 2018
Texas Brand Bank Joins Prime Partner Program
Sept. 5, 2018
Austin Capital Bank Joins Prime Partner Program
July 9, 2018
TAJF Proud to Join Equal Justice Works to Fund Disaster Legal Corps
June 29, 2018
Foundation Establishes Randy Chapman Fellowship to Impact Legal Aid in Texas
June 19, 2018
Foundation Creates Families in Crisis on the Border Legal Aid Fund
March 27, 2018
Foundation Creates David Hall Fellowship to Increase Legal Aid in Southwest Texas
Jan. 24, 2018
TAJF Executive Director Named "Distinguished Lawyer"
Nov. 6, 2017
November 6-10 Is Texas Veterans Legal Aid Week
Nov. 1, 2017
November Recognized As Prime Partner Bank Month
Oct. 23, 2017
TAJF Awards Funds to Help Those Impacted by Harvey
Sept. 26, 2017
TAJF Announces 2017 Equal Justice Works Fellows
Sept. 26, 2017
New Campaign Seeks to Honor Veterans and Raise Funds for Legal Services
Aug. 28, 2017
Donate to the Hurricane Harvey Legal Aid Fund. Help the Survivors Rebuild their Lives.