Hurricane Harvey Legal Aid Fund
Donate to the Hurricane Harvey Legal Aid Fund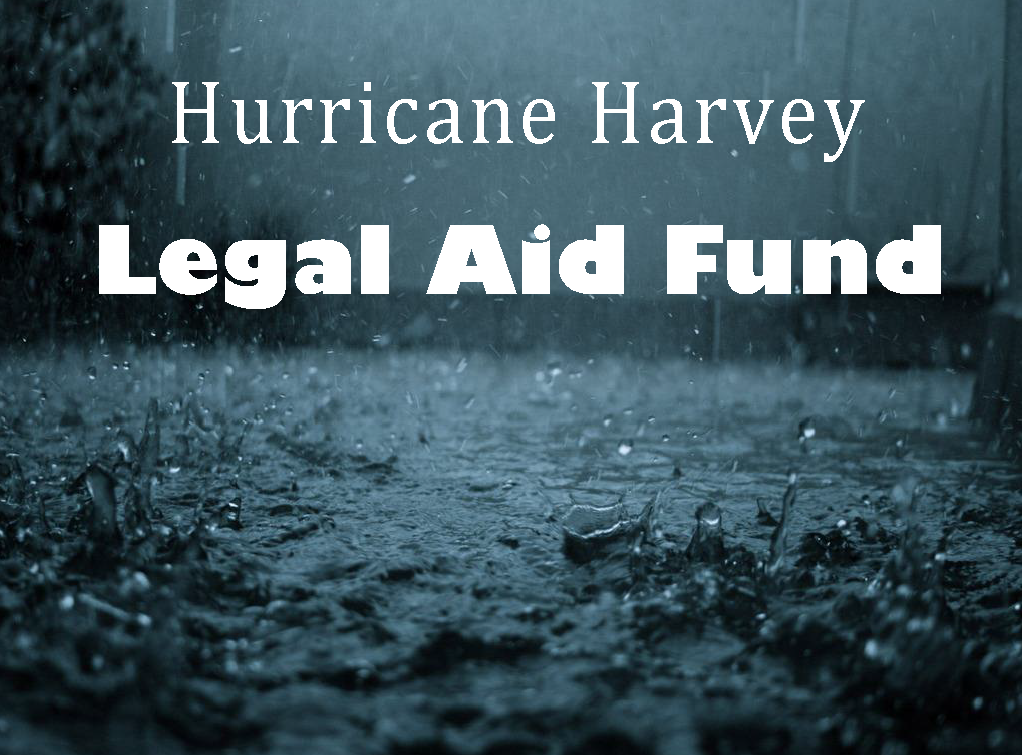 Legal aid provides the calm after the storm. Texans are reeling from Hurricane Harvey. After the storm subsides and the water recedes the exhaustion of survival will be met by the harrowing realization that their journey back to normalcy is only just beginning. The daunting work of putting their lives back together will require interaction with myriad governmental agencies and private businesses in order to interpret their rights to services and financial assistance. At times, it will feel hopeless. After a disaster, Legal Aid helps put lives back together by providing:
Assistance with securing FEMA and other benefits available to disaster survivors

Assistance with life, medical and property insurance claims

Help with home repair contracts and contractors

Replacing wills and other important legal documents destroyed in the disaster

Assisting in consumer protection matters, remedies and procedures

Assisting with

mortgage/foreclosure and landlord/tenant problems
The Texas Access to Justice Foundation will use all donations to fund Disaster Legal Aid to survivors of Hurricane Harvey. Please donate to the Hurricane Harvey Legal Aid Fund to assist all Texans in need of these essential services.
Donate online by clicking the PayPal button below.
Donate by mail
If you prefer to mail your donation, please mail this form and send it, along with your tax-deductible donation, to:
Texas Access to Justice Foundation
Re: Hurricane Harvey Legal Aid Fund
P.O. Box 12886
Austin, Texas 78711-2886

Thank you for your support!
Recent News

Nov. 7, 2018
Texas Veterans Legal Aid Week is Nov. 11-17
Oct. 18, 2018
Texas Rep. Oscar Longoria Honored with Legislative Hero Award
Sept. 10, 2018
Texas Brand Bank Joins Prime Partner Program
Sept. 5, 2018
Austin Capital Bank Joins Prime Partner Program
July 9, 2018
TAJF Proud to Join Equal Justice Works to Fund Disaster Legal Corps
June 29, 2018
Foundation Establishes Randy Chapman Fellowship to Impact Legal Aid in Texas
June 19, 2018
Foundation Creates Families in Crisis on the Border Legal Aid Fund
March 27, 2018
Foundation Creates David Hall Fellowship to Increase Legal Aid in Southwest Texas
Jan. 24, 2018
TAJF Executive Director Named "Distinguished Lawyer"
Nov. 6, 2017
November 6-10 Is Texas Veterans Legal Aid Week
Nov. 1, 2017
November Recognized As Prime Partner Bank Month
Oct. 23, 2017
TAJF Awards Funds to Help Those Impacted by Harvey
Sept. 26, 2017
TAJF Announces 2017 Equal Justice Works Fellows
Sept. 26, 2017
New Campaign Seeks to Honor Veterans and Raise Funds for Legal Services
Aug. 28, 2017
Donate to the Hurricane Harvey Legal Aid Fund. Help the Survivors Rebuild their Lives.